About Us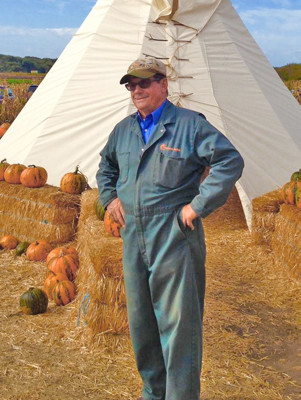 Daylight Farms is a fifth gereration farm family run business, farming in America since 1918, growing produce and flowers.
Over twenty-five years ago, Farmer John (yes, there is a real Farmer John) thought it would be good to grow pumpkins so that children and their families could experience a real pumpkin farm and actually see how and where they grew.
Originally, Farmer John had school children plant a few pumpkins in May and return to help harvest them in October as a fund raiser for their school. Now he is open to the public under the name of Farmer John's Pumpkin Farm so more people can share in the farm experience. Farmer John also opens his farm to under-served youngsters by having special days when children with disabilities can come to the farm and enjoy being outdoors on a working farm, enjoying the sights, smells, and pumpkins!
Farmer John truly enjoys meeting and visiting with the people who come to his farm. He has had visitors from as far away as Sweden, Switzerland, and Germany, and as close as many local families from Half Moon Bay. He enjoys talking to them all, and he has a soft spot for children. He tries to make the farm as inviting as possible.
This year there will be NO hay pyramid, our authentic Native American TiPi will be available for photos but NO INSIDE ACCESS due to Covid-19 Guidelines.  Of course we will have our usual abundance of photo spots, including Farmer John's older model John Deere tractor used for farming many years ago and our little pumpkin delivery truck. Many friends, old and new, come to buy their pumpkins for decoration and cooking, talk to Farmer John, and take their Thanksgiving or even Christmas Family photos here on the Farm.
Whatever your reasons, we look forward to meeting you or seeing you again. Please stop by, even if just for a chat. If you have any questions or comments, feel free to send us an e-mail. Enjoy the season.
– Farmer John and his wife Eda